As a young hairdresser, I remember waiting in line to see the Sebastien hair show to see Robert Lobetta's work. Robert has explored and succeeded in several artistic paths – as a hairdresser, salon owner, an artist, a director, a photographer – and I respect him for his ability to make a lasting impact on each creative field he's touched, and I'll never forget the impact he's had on my creativity as a hairdresser.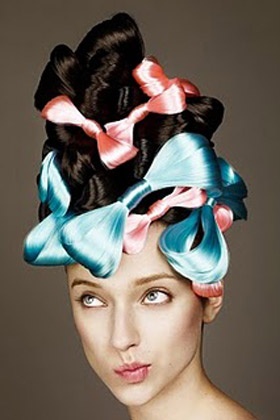 I admire Robert's constant search for creativity, which I see expressed throughout his work. He wasn't only involved in editorial work, including a double page feature in Vogue for hair, but he truly made a name for himself when he won the Avant Garde category in HJ's British Hairdressing Awards in 1985. Although known for his signature avant garde hairstyles, he went on to pursue photography, and I admire his boldness to take photographs that were strong, even provocative. He made his talent and eye for detail apparent when he formed the image for the Sebastian brand, eventually fulfilling the role of Sebastian's global creative director for nearly 10 years.
I'm inspired by the many creative roles Robert has taken up, as he not only excelled in all he did, but made a permanent impression that went on to influence others in their craft. His aesthetic is one of eccentric creativity, where he balances a sense of fantasy and raw emotion with reality and energy. Each image he creates – whether it's a photo he takes or a hairstyle he creates – provokes thought and imagination. Robert's artistic passions seem to be never ending, where he is always the one to establish the latest trends for everyone else to follow. For his visionary and genius mind, I regard him as one of the most influential icons for the hair and beauty industry.
Photo Credits:
menschenimsalon, HJi, hairblog.eu
Related Posts:
Yves Saint Laurent: Fashion Revolutionary
Richard Avedon: Capturing Raw Beauty