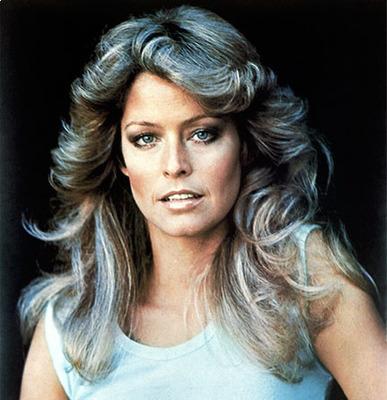 In 1974, a young woman had layers cut into her hair by Allen Edwards. Flash forward to 1976, and Farrah Fawcett burst into popular culture playing Jill Monroe, a private investigator on the first season of Charlie's Angels—enticing girls everywhere to jump into their favorite gun-toting pose and sneak around corners with a hair flip. That same year she became a sex symbol, stuck to the walls of many a teenage boy's bedroom, when the iconic poster of her wearing a red swimsuit hit record sales into the millions. Her hairstyle soon became the must-have look of the late 70s and early 80s.
Farrah's feathered shag symbolized a hair revolution during the liberated 70s. Her hairstyle was a sharp departure from the standard bobs that seemed contained and rigid. Moving away from electric-roller curls, Edward gave Farrah's hair brighter highlights and added more layers. Farrah's layers were short around the faces and flatter on the top; the edges were flipped back to create the iconic look. For once, hair could show off its volume and length. As women craved movement and volume, the feathered shag with floppy bangs and soft bouncy sides quickly became an icon and trend. By 1978 she was capitalizing on her hair's popularity by endorsing her own brand of hair care products through Fabergé; appearing in several print ads and commercials.
Nearly 40 years later, celebrities still emulate her style, now simply known as the Farrah. Heidi Klum imitated Farrah's carefree, untamed waves as seen in the famous 1976 poster with the red swimsuit. In 2005, Madonna sported Farrah's flip for her tour Confessions on a Dance Floor. Beyoncé does a less dramatic version of Farrah's iconic hairstyle, with smoother waves. The Farrah continues to channel a natural sexiness for women who wear the style today.
Photo Credits:
CultureMap Houston, Shag Haircut and Styles, InStyle
Related Posts: