The bob has been around for decades, first popularized in the 20s and re-emerging in the 60s with stars such as Twiggy and Mary Quant. In 2006, Victoria Beckham (then better known as Posh Spice) reinvented the bob by adding a modern edge to the classic style.
Trading in her long hair extensions for the new "pob" (a combination of the words "Posh" and "bob"), Beckham sported her new cut which was short in the back and long in the front to create an asymmetric appearance. The longer, chin-length layers in the front framed the face and jaw and enhanced the cheekbones. The cut was versatile – it didn't require heart-shaped faces for the style to work. For shorter, rounder faces, the addition of more layers in the front could elongate the face and bring out individual facial features.
Beckham took the bob to new levels, creating unique variations that communicated elegance and glamour. Her bob went through different phases of color, from varying shades of brunette to blonde. Side partings and fringes sometimes complemented the hairstyle, and waves and a back-combed crown gave texture, volume and edge to the overall look.
In the ranks of popularity as the Rachel from the 90s, Beckham's bob became one of the most requested hairstyles and even inspired other celebrities to take on the cut. Nine months after the emergence of the Beckham bob, Katie Holmes wore a less angled version that was longer in the back and she continued to shape the bob into her own style. In 2008, Gwyneth Platrow showed off a Beckham-inspired bob that had long layers in the front, which gave a slimming effect to the face. The bob has the power to give any woman a dramatic change, and its transformation throughout the century defines the style as a timeless classic.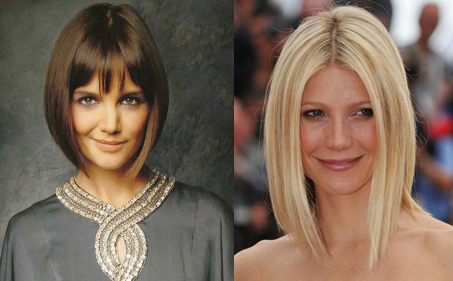 Photo Credits:
Victoria Beckham: http://awonderfuleverything.blogspot.com and
http://www.hair.becomegorgeous.com
Katie Holmes: http://www.hairxstatic.com/ 
Gwyneth Paltrow: http://www.nzhairdressers.co.nz/