The holiday season means holiday parties! While everyone loves a good party, we're often strapped for time during the holiday season buying gifts, working and spending time with family and friends. Thanksgiving, which is next week, marks the start of this holiday busy season. To make your holiday hair a breeze, we've picked three easy hairstyles that can quickly make you feel glamorous!
Hair Ornaments
Why should the Christmas Tree get all the ornaments?! Add some bling to your hair with accessories. Ornate gold clips and barrettes were all the rage this couture season (Alberta Feretti show hair shown below) so why not add them to your hairdo this Holiday? These accessories can take any work-appropriate hairstyle to cocktail party glam in a matter of seconds!
Hair Bows
If we can steal the show from the Christmas tree, we can sure steal the show from the presents underneath. On the runway this year, Oscar de la Renta added velvety black bow ties to the models' ponytails. A bow is a great accessory that can raise the bar of any low pony or chignon and make your hair holiday party ready in a matter of minutes.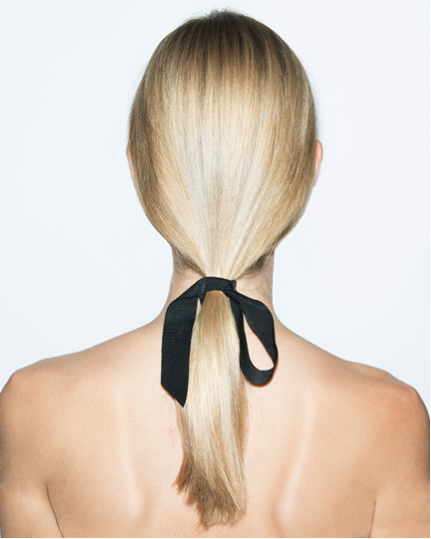 Double Flip Hair
Everyone loves the "winter is coming," Game of Thrones hairstyles. But realistically we don't have time to spend hours on Pinterest and YouTube watching elaborate braiding tutorials. A simpler, fake-braid hairstyle is the double flip. Pull back a section from the left and right sides of your head and form a low, loose ponytail. Then flip the tail inward through the open space and secure with another elastic. Flip once more, securing again.