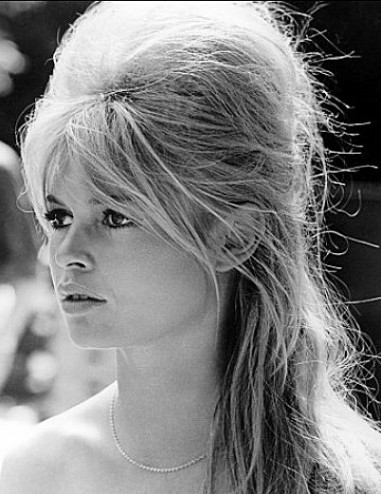 Brigitte Bardot was one of the first foreign stars to gain recognition in America—her films provided a major breakthrough for the release of French films to English-speaking audiences. People couldn't keep their eyes off of her voluminous, unkempt blonde hair, and her bombshell style has been replicated for decades.
Bardot brought many different hairstyles into fashion throughout the 50s and 60s. Her most iconic hairstyle is her big, backcombed hair, which is achieved using a teasing comb at the crown and hairspray to keep the volume. In 1960, Margaret Vinci Heldt of Elmhurst, IL, designed a new hairstyle called the beehive—Bardot quickly popularized this look by putting her own disheveled twist on it—sometimes leaving half her hair down, which became called the choucroute (sauerkraut) hairstyle. Bardot also inspired hair accessories—often wearing a wide headband over her bangs, with the rest of her hair backcombed of course.
Proving even further how Bardot is an icon, many celebrities have been channeling her sensual style in photo shoots. 2011 has Kylie Minogue on the January cover of Glamour U.K. styled as Bardot, and the May issue of Elle Brazil showcased Gisele Bündchen, photographed by Nino Muñoz, duplicating an iconic image of Bardot wearing only black tights. Bardot's continued influence on fashion, hair, and image proves that no matter what year it may be, her style will always inspire women to embrace their inner bombshell.
Photo Credits:
Brigitte Bardot images:
http://brigittebardot.net/brigitte-bardot-biography/
http://www.perfectpeople.net/photo-picture-image-media/Brigitte-Bardot-3700×4302-900kb-media-635-media-134156-1205476505.jpg
UK Glamour: http://www.magxone.com/glamour/kylie-minogue-glamour-uk-january-2011/
Elle Brazil: http://www.designscene.net/2011/04/gisele-bundchen-elle-brazil.html