Emma Stone, star of blockbuster films such as The Amazing Spiderman and The Help and one of Hollywood's current "It" girls, hasn't even turned 25 and already she's been nominated for a Golden Globe, won several additional awards (including several People's Choice and a NAACP Image Award), and has graced the covers of over a dozen magazines fromVogue to Vanity Fair. But more than that, Stone's star power proves time and time again that it takes more than a pretty face to win the heart of America. Sure, she's gorgeous and talented, but it's a combination of those attributes along with a confident, down-to-Earth demeanor and sense of humor that makes this husky-voiced, porcelain-skinned actress so captivating.
Stone often shows her fun, adventurous nature through her hair. A natural blonde, Stone had traded her golden locks for a brunette well before she auditioned for what would become her film debut as Jules in the 2007 teen comedy Superbad. Director Judd Apatow convinced the young starlet to dye her hair red for the film. Along with her talent and on-screen charisma, it became one of the most identifiable traits of the easygoing, girl-next-door.
Since then, Stone has tried her hand… that is her hair, in nearly as many colors as she's has had acting gigs. With each new hue, she shows she's a master of self-reinvention (adapting her makeup and brows to complement each shade), without losing herself in the process. For example, with this medium blonde tone, Stone looks relaxed and casual on a day in the neighborhood.
Below, Emma Stone goes auburn. Smiling for the camera, or about to break into laughter? Maybe both.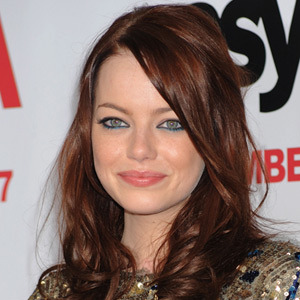 Stone sports a lighter red shade and layers that work together for a sense of playfulness.
At the premiere for The Amazing Spiderman, Stone's glammed-up platinum blonde hair remakes the star into a devastating bombshell.
Next time you're at the salon thinking about taking a chance with a new hair color, consider what Emma Stone would do, and dive right in. Rock your new look with confidence and pride, and show the world your inner starlet.
Photo Credits: David Tonnessen/PacificCoastNews.com, Jeffrey Mayer/wireimage.com, Pascal Le Segretain/Getty Images
Related Posts:
From Kitten to Classic: Ann-Margret
James Bond + 1: Red, Blonde, or Brunette?