Most women already take the shape of their face and personal style into consideration when shopping for sunglasses, but unless they regularly wear eyeglasses they may overlook a third important factor of determining the perfect pair: hair. The key word here is proportion: the face (and all its lovely features), sunglasses, and hair—whether worn up or down, polished or purposefully loose and carefree, straight, curly, or wavy, or so many other ways—should harmoniously work together to create the ultimate look and best express your personality. A person's face shape and bone structure are static, but hairstyles often are not. This makes for an infallible excuse to pick up several pairs of the season's most stylish shades. Check out some of our favorite sunglass trends of 2013 and hints on pairing them with a number of hairstyles.
Angles
This season many sunglass designers took traditional cat-eye, squares, and rectangles to the boldest extremes. These styles are perfect for women who love short, edgy hairstyles or, especially in-regards to the cat-eye shape, like to glam up with retro-inspired dos. This model has her hair pulled back to display her Fendi sunglasses during a runway show.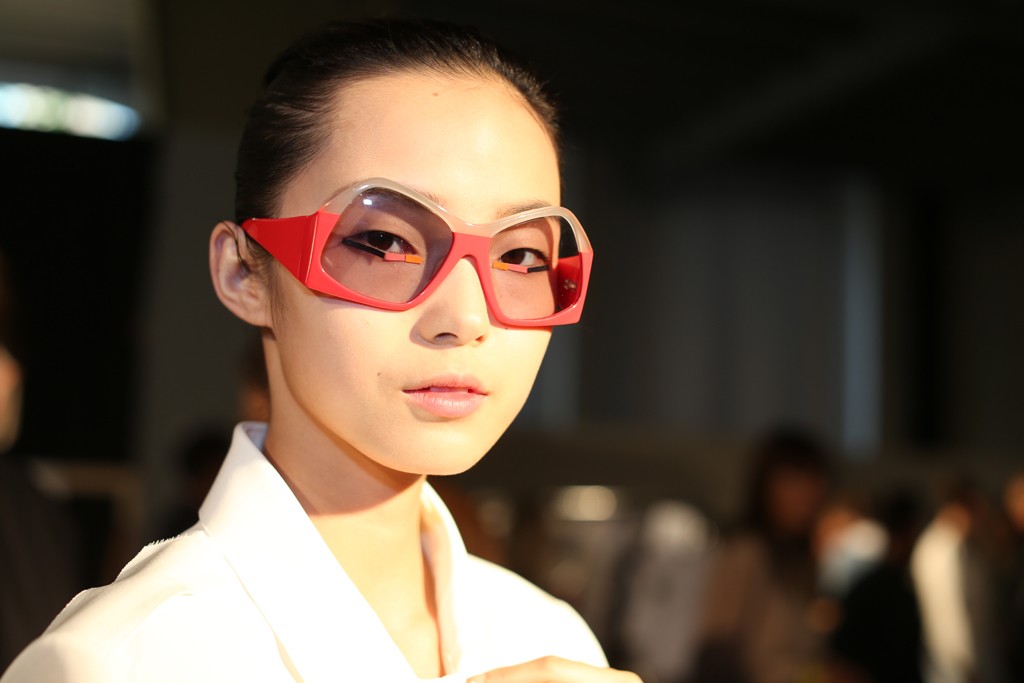 Oversized
Oversized frames have been the rage over the last several seasons, and 2013 shows the trend has no sign of slowing down. If your personal style is adventurous, big, wild hair may go well with big-framed sunglasses, but for most other looks, a combination of huge hair and huge glasses may overwhelm the rest of your features. An especially popular variation on the style this year is extra-large lenses with thin frames, or no frames at all. This makes them more wearable for women who have a more refined looks.
Colorful Frames
The hot shades for shades this spring are bright, jewel tones, often used in conjunction with big rims or color blocking to add a second color to the mix. Skin tone and eye color may be deciding factors in which colors look best from one person to another, but hair (unless you take an extremely artful approach to dying your hair) does not. No matter where your hair lies on the color spectrum–from platinum blonde to a silky jet black—feel free to pick your favorite color or treat yourself to a full rainbow collection.
Round
Circular shapes of all sizes are another must-have look for 2013. Big round sunglasses typically look best with longer hairstyles, such as Fergie's in the following photo. Unless the wearer has very angular features, a short or bobbed cut could make the face look rounder as well. In contrast, petite round frames are one of the most universally-flattering styles, and can be paired with anything from a pixie cut to long, sweeping layers.
Ornate
Embellished, elegant sunglasses look fantastic with closely-cropped, or understated hairstyles to keep your look from getting too busy. Plus, you'll lower the risk of having to untangle your hair from the accents later on! This model wearing a design by Roberto Cavelli has very casual, slightly-tousled hair style that balances the detail of the highly-styled frame.
Update your look this spring with this season's most gorgeous sunglasses trends, and don't forget to make sure your shades "match" your hair and your personality.
Photo Credits:
Delphine Achard, imaxtree, The Trend Diaries
Related Posts: