Glamorous. Sensual. Confident. Intelligent. These are attributes embodied by our latest "Stay Gorgeous" style icon, Marlene Dietrich. This German-born actress became one of the biggest stars and most fascinating personalities of the 20th century by virtue of her talent, stunning looks, and bold, individualistic lifestyle that still rings modern, even by today's standards. Glimpses of films and photos taken of the classic beauty over eighty years ago still exude a rare, natural charisma and smoldering sexuality that make them appear to "pop" from the screen.
In the 1920s, Dietrich was a noted figure in the Berlin's famously uninhibited cabaret scene. Her life changed forever when she met director Josef von Sternberg, who cast her as free-spirited showgirl Lola-Lola in his film, The Blue Angel. Shot in German and English, the film quickly became an international sensation. Dietrich and von Sternberg relocated to Hollywood, where they collaborated on six films and cemented Dietrich's place as the premiere leading lady of the 1930s.
Dietrich brought a taste of her formative years in Berlin—and a hint of controversy—to American audiences by toying with androgynous looks, starting with her first US film, Morocco (1930), where she appeared as a jaw-dropping beauty dressed in a tailored tuxedo and perfectly-coiffed hair. Menswear became a staple of her wardrobe, both onscreen and off, and her taste for it inadvertently made it more acceptable for all American women to trade their skirts for slacks. Decades later, her edgy, androgynous look helped pave the way for style icons like David Bowie and Grace Jones, and current stars like Lady Gaga and pop singer / Cover Girl Janelle Monae to bend the gender line.
When dressed in more traditional, if not conventional, women's styles such as daring, leg-baring dresses or feather-adorned robes, Dietrich was femininity personified. In her films and publicity stills, her striking features were further enhanced by simple, matte makeup and von Sternberg's expert use of lighting to accentuate her dramatic cheekbones, "cupid's bow" lips, and luxurious blonde hair.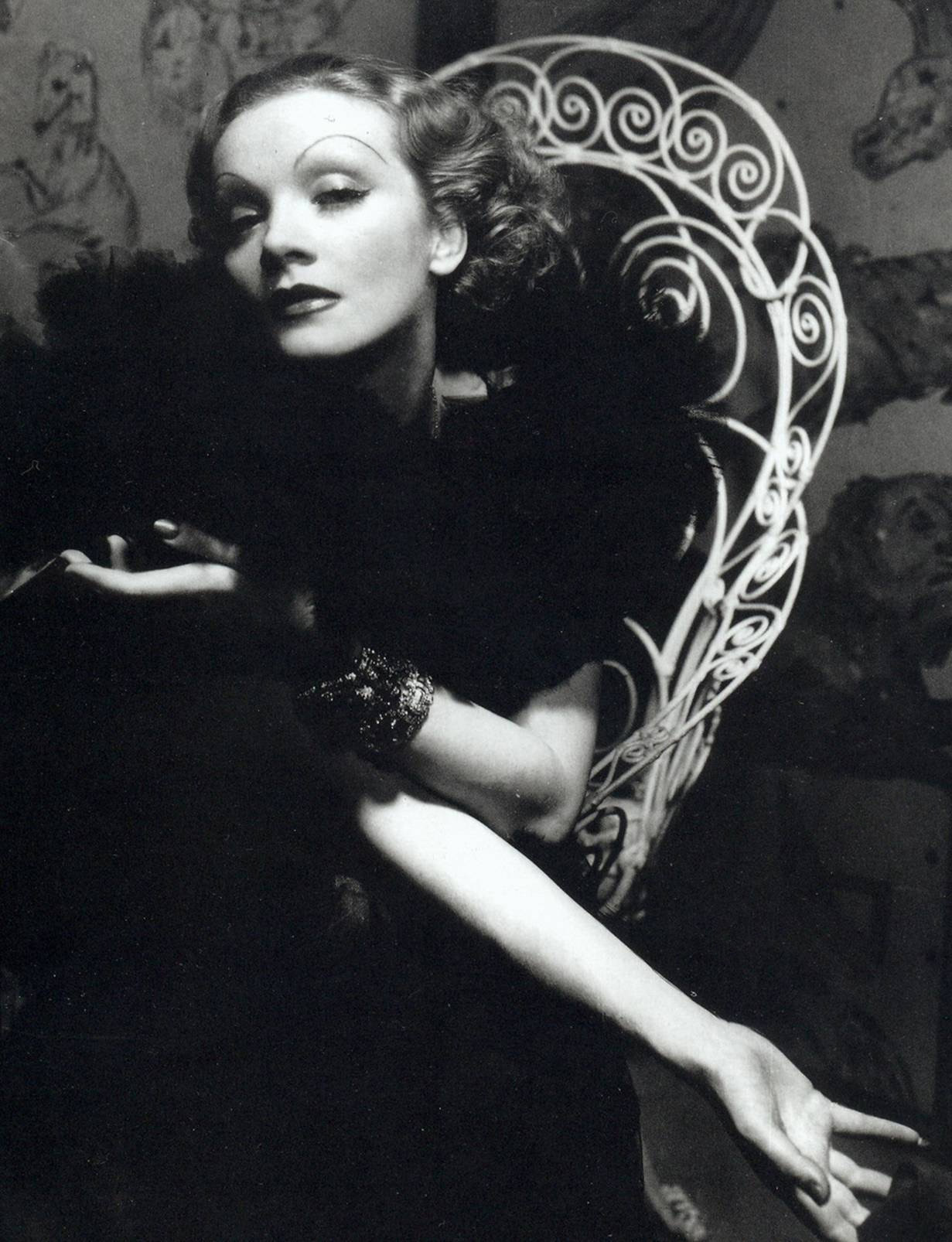 In the 1950s, Dietrich reinvented herself as a star of the stage, first with a residency at the Sahara Hotel in Las Vegas, and later in theaters around the globe. Now middle aged, Dietrich was as provocative in her fashion sense as she was in her stage banter. Her eveningwear of choice was a collection of what she called her "nude dresses;" gorgeous, elaborate gowns designed to give the illusion of partial nakedness and show off her still-incredible figure.  The "faux-nude" look remains a favorite red-carpet look for many of today's stars, including Taylor Swift and Jennifer Lopez.
Dietrich performed throughout the world into the mid-1970s, when an on-stage fall forced her into retirement. She passed away in Paris at the age of 90, and is revered today for her adventurous spirit and strength of character as well as her numerous talents and physical beauty. Perhaps we could all take some hints from Marlene Dietrich on how to "Stay Gorgeous": be free, be daring, and live life by your own rules.
Related Posts:
Sophia Loren: Confidence with Style
Lauren Bacall: A True Original