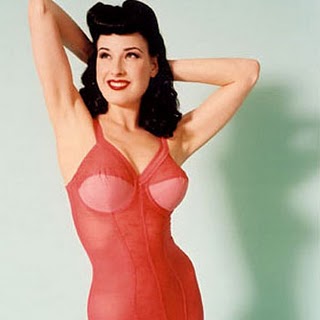 Pinup is a uniquely American art form that began to gain popularity in the 1900's, and immediately influenced the way society saw beauty. The Pinup Girl concept was brought into the publishing and advertizing industry at a time where it could be viewed in magazines and newspapers to boost product sales. They developed the name "pinup" because people saw the images in magazines and would rip the pages out and pin them up, mainly the WWII G.I.'s who adorned their footlockers. Betty Grable's pinup poster was a pure hit with soldiers. The pinup craze continued into the 1950s, highlighting stars such as Marilyn Monroe.
In the midst of America's sexual revolution, the rules for modesty were gradually loosening, and hairstyles quickly followed suit. Sex appeal was the key component for pinup models. These women typically donned mid or shoulder length cuts with velvety tousled hair.  Loose curls were all the rage.  Women who did not have naturally curly hair used a pin-curl set to achieve the coveted look. Many pinup models opted for permanent waves by way of chemical treatment.  And as hair salons gained popularity though this emerging trend, women flocked to them, hoping to mimic the styles of the pinup models.  Pinup models were typically blonde, like Jayne Mansfield, or brunettes like Jane Russell.  And sometimes, barrettes and hair combs were used to pin the hair back to one side or create up-dos. Models would also often tie in chiffon scarves.  But whether they wore their hair up or down, the pinup styles were always soft and sultry.
As vintage hairstyles are making a comeback, different elements of the pinup hairstyle are leading the way. Celebrities such as Dita Von Teese and Christina Aguilera have drawn inspiration from their predecessors and given their own hairstyles a modern twist, and magazines often feature today's stars such as Amanda Seyfried, Frieda Pinto and Mila Kunis in pinup style. The modern pinup hair – whether worn up or down, or blond, brunette or red – still carries the signature soft waves of the classic pinup image. The pinup has become a classic template that will continually evolve through reinvention.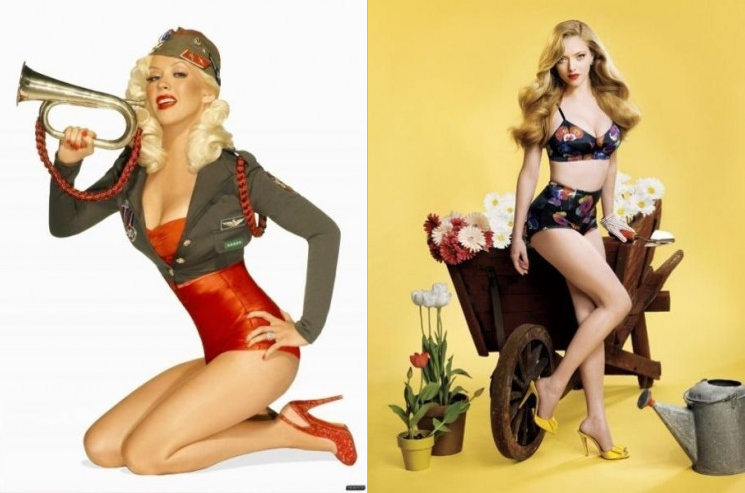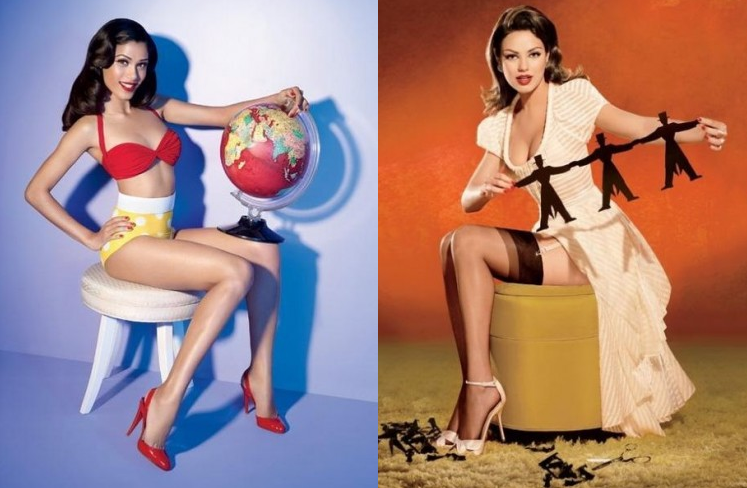 Photo Credits:
Betty Paige: http://beautyandthefeasts.blogspot.com/2011/04/diy-bettie-page-pin-up-bangs.html
Dita Von Teese: http://kaydarlin.blogspot.com/2011/01/style-muse-of-week-dita-von-teese.html
Bottom 4 photos:  http://acidcow.com/famous/18148-modern-celebrities-as-vintage-pin-up-art-13-pics.html