Coco Chanel declared, "Fashion is architecture: it is a matter of proportion." This winter plays with proportion, deeming oversized outerwear fashionable in short and longer lengths. Accompanying the outfit is the hair, where the hair is more relaxed and straighter than previous seasons, with bangs trending over volume.
In the photo above, the Proenza Schouler coat's modern design and especially sharp winter white color creates a striking contrast with the rich, dark hair color. The shorter coat length allows accessories to make a flattering statement, as we see with the classic knee-high boot accompanied by the coat's hemline.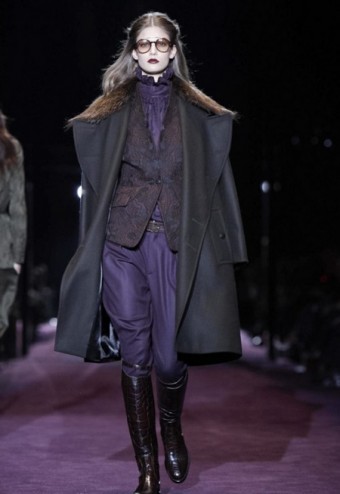 Gucci's oversized coat emulates the classic equestrian look. The grand proportion of the coat pairs well with the exposed, fitted layers underneath. The monochromatic theme is exquisite and always fashionable, perfectly complimented by the classic center part in the hair. Hair off of the face, falling down the back understatedly directs attention to the wearer's face, without distraction to the overall, carefully selected look.

Chloe's beautiful designs and palette suggest a confident, alluring and independent woman. Clean lines on all pieces allow the color blocking to come together. An elongating pant with matching heel is the key to survive the proportion of the coat. The hair feels intentionally simplistic as not to overpower the ensemble.
Oversized winter outerwear, complemented by a simple yet sophisticated hairstyle, will ensure a taller, bolder gorgeous stride. Playing with proportions can pose a fashionable, winter solution from head to toe, allowing you to transform your look from the runway to everyday wear.
Photo Credit: For Those Who Notice, Million Looks, Chloe
Related Posts:
Fall/Winter 2012 Hairstyles: Return to the Classics