Game of Thrones returns this Sunday, and British actress Emilia Clarke, or as most people know her from Game of Thrones, Daenerys Targaryen, has captivated fans with her radiant peroxide locks for the past five years. While the platinum wig, creation of Emmy nominated hair designer Kevin Alexander, has certainly become one of Miss Clarke's trademark looks, we're equally intrigued by her naturally lush brunette 'dos. Check our list of her most memorable hair moments!
At the 64th Emmy Awards in 2012, Emilia Clarke appeared wearing a splendid ponytail, done by celebrity hairstylist Scott Sloan. Texturized and neatly parted at the center, her hairstyle went perfectly with her Chanel dress.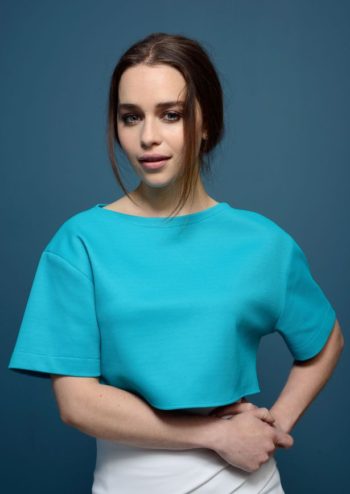 To the Toronto International Film Festival in the fall of 2013, Miss Clarke came wearing a stunning turquoise Versace top that beautifully accented her green eyes. Her luminous brown hair, gently held in a bun and with two loose locks framing her face on each side, was absolutely flawless.
When coming up with an idea for her 2014 Golden Globes coiffure, Dove celebrity hairstylist Mark Townsend said he wanted to match the dynamic effect of the embroideries on Miss Clarke's dress. With gorgeous waves grazing her shoulder, and a healthy vibrant glean, it's mission accomplished.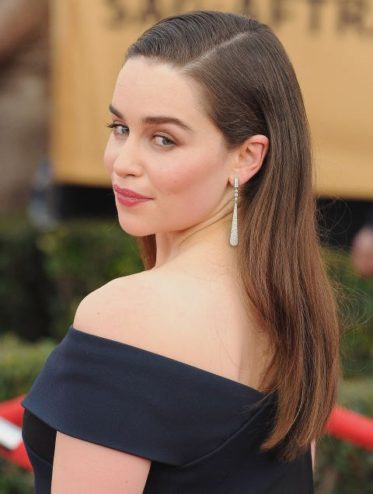 At the 21st Annual SAG Awards, Emilia Clarke parted with the waves, locks and buns, and kept it simple. With a long side-parted 'do, and an off-the-shoulder Donna Karan Atelier gown, she looked majestic.
On this year's Valentine, Miss Clarke wore a Victoria Beckham dress and an ombre wavy bob to the EE British Academy Film Awards in London. If there is timeless beauty, then she is it.