Nicknamed the Love Goddess, actress and dancer Rita Hayworth illuminated the silver screen in the 1940s. She came to Hollywood as a teen and got her start typecast as the exotic foreigner, and then became the happy-go-lucky dancing girl—and was the first dancer to be featured in films with both Fred Astaire and Gene Kelly.
But things didn't always come easily for Hayworth. When she transferred to Columbia Pictures Studio at age eighteen, her hairline was very low and her hair was very dark. At first, the studio's beauty team bleached a streak across her forehead to make her hairline look higher, but finally it was suggested that she get electrolysis to take back her hairline. It took about a year of the painful treatments before her new hairline was achieved. Hayworth's makeover was somewhat controversial because it drastically altered her appearance from her Spanish heritage to a more Caucasian façade.
Soon after, Helen Hunt, the studio's hairdresser, suggested taking Hayworth to her trademark red and created the turning point in her career. Hayworth became one of the most popular pinups for soldiers in World War II with a photo of her in a black-lace negligee from Life Magazine. When she starred in the 1946 film noire Gilda, she solidified herself as an erotic femme fatale in popular culture and made women everywhere want to be her.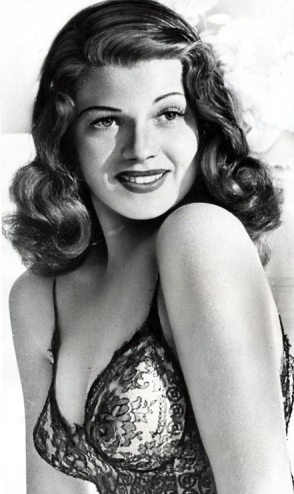 Modern celebrities still try to channel Hayworth's luscious locks in order to increase their sex appeal. Blake Lively arrived at the Time Magazine 100 Gala in 2011 with scarlet waves, and Dianna Argon from Glee walked the 2011 Golden Globes red carpet with her hair styled like Hayworth's. Most recently, The Help star and redhead, Jessica Chastain stunned the crowd at this year's Cannes Film Festival with a Hayworth inspired, glamorous hairstyle.
Hayworth and the brilliance of her hairdresser Helen Hunt evidenced the power a hair color can have on perception and perpetuated the fiery vixen persona that has frequently been associated with red tresses.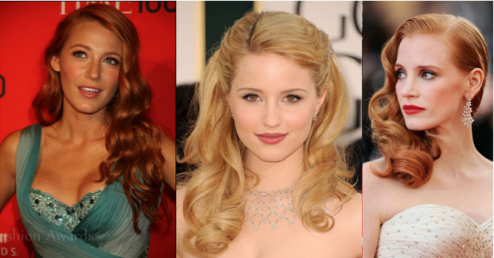 Photo Credit: Va-Voom Vintage, Anandie K, PopGoesTheArts, specialsfashion4u04, Best of Dress
Related Posts:
Marilyn Monroe: Bleached and Beautiful