Renée Zellweger, one of America's favorite actresses, is making her comeback with a sequel to the cult classic, Bridget Jones' Diary. The new film, Bridget Jones' Baby premiers this September. Over the years Ms. Zellweger has gone through many transformations for her roles. Most notably, the actress has had parts in Empire Records, Jerry Maguire, Cinderella Man, Chicago, Texas Chainsaw Massacre: The Next Generation and the Bridget Jones series. She has gone from blonde to brunette and back again quite a few times. Her roles have also led her to sport some short cuts and her red carpet appearances have called for some impressive updos. We've picked our favorite Zellweger hairstyles in honor of her new movie premiere.
In her role as Roxie Hart in the 2002 movie Chicago, Ms. Zellweger not only had to learn how to dance and sing, but she also had to cut her hair. As seen in this ad for the movie, she sported a short, 1920's wavy blonde look. In 2005 for Cinderella Man she donned a brunette version of the same hairdo for her role as the wife of a boxer during the Great Depression.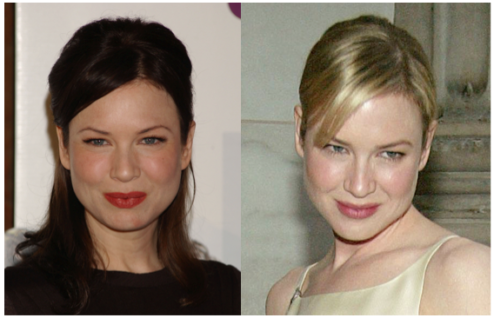 Renée Zellweger has gone through some dramatic hair changes throughout her twenty plus years in Hollywood. Whether she is blonde or brunette, this actress always looks good with a side part. She wore side swept, blonde bangs and a low bun to the 2003 CFDA Fashion Awards. A year later, in 2004, she looked just as good on the red carpet with a brunette side parted half-pony.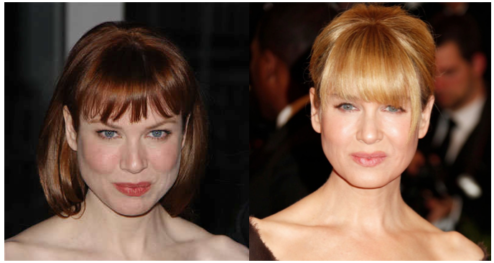 Among the many hair transformations Renée Zellweger has gone through, we always love how she can rock sleek bangs. Whether red headed or blonde, up do or a short-cropped look, Ms. Zellweger looks fantastic in long, lustrous bangs. Her red headed bang look was a brief stint in 2005 as she transitioned from her Cinderella Man brunette back to her usual blonde. Her blonde banged updo was for the Costume Institute Gala at the Metropolitan Museum of Art in 2013.
What's your favorite Renée Zellweger hairstyle? Comment below to let us know!