What is polished? To me it is something that sparkles. Polished hair gives the look of refinement, control, and elegance in any surrounding. For special events, there's no question polished hair will be a good look. Women who go for polished styles want to look more sophisticated, more elegant, and make a statement. Sometimes the bolder looks are more noticeable because they're not so natural.
With summer's humid air around us, achieving a polished look that will stay smooth throughout your event can be more challenging than in drier months of the year. Sweeping your hair back and off your shoulders is a great choice that not only can keep you cooler in warm weather, but can help keep your hair looking picture perfect with minimal effort no matter how long you're in the heat.
We've found inspiration for great summer looks in next season's styles. Salon Buzz has already worked on a number of fall and winter fashion shows, and all of the pulled-back looks have been low and to the nape of the neck–nothing high off the collar, and a far cry from the top knots that have become so ubiquitous in the last year. Be ahead of the curve and wear one of these gorgeous, polished looks to your next event.
Low Bun
The low bun looks glamorous in both low and high volumes, making it a great choice for women with medium-to-long hair. Actress Rachel Wiesz recently sported the look to the red-carpet premiere of Oz: The Great and Powerful.
Sleek Ponytail
A striking, sleek ponytail can really set an impression. What makes the latest trend different from seasons past is it starts at the nape of the neck, rather than higher up on the head. Try it with a middle part like Beyonce in the photo below for an extra hint of drama.
Braided Side Bun
A stunning twist on a classic style, this style offers the added control braids provide their wearers in any type of weather. Worn low on the head and towards the face, like Charlize Theron in the photo below, it is a highly detailed look that looks refined without looking stuffy.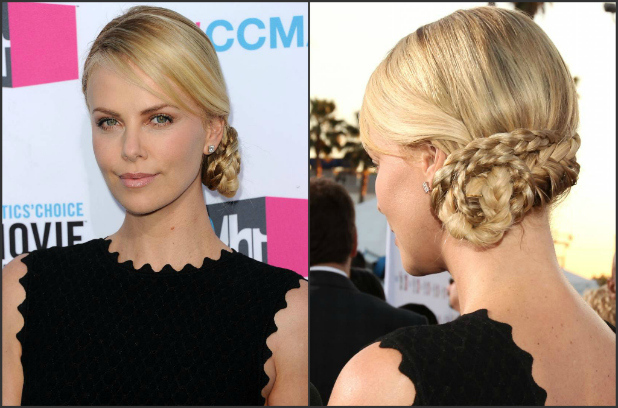 Any of these beautiful styles will have you turning heads at your next summer event. Don't wait for the weather to change before you try them all!
Related Posts:
Tired of topknots? Let your hair down.