Fall and winter fashion inevitably includes a new take of the time honored military uniform.  2012 previews revealed an abundance of leather, more fur (Dries Van Noten), endlessly long gloves and metal chains (McQ), and lady like skirts (Ferragamo) than ever before.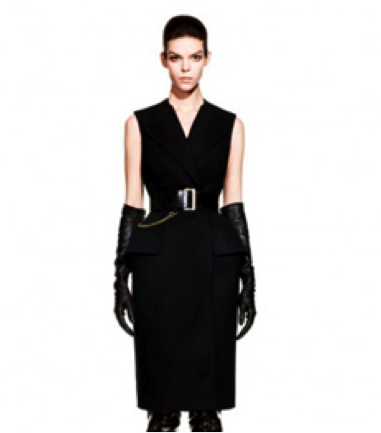 Military fashion demands a hairstyle of its own.  Ideally, the hair appears as short as possible to give off a masculine vibe.  The pixie cut compliments multiple fashion genres, especially this one.   Hair pulled back with or without a center part and tied at the nape creates a bold statement option.  A soft side part with a real or faux bob is a flattering alternative for most face shapes.
Clothing color and fit vary season to season, however, black will be big for the cold months ahead – in any and every texture.  Double breasted outerwear, metal buttons, knee high boots, epaulets, and waist cinching belts are beloved basics of any military look.   The look can be as minimal as one garment, but becomes more interesting with unexpected additions, such as a sleeveless wear, feminine fit or draping, and embellishments.
The military look is a classy, modern and functional look for style-minded women. Stay gorgeous and win the bitter climate battle of a long winter with military luxe.