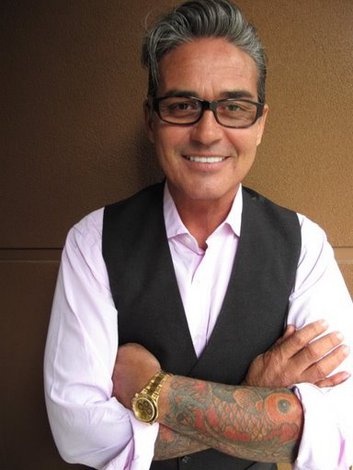 A few years ago, I had the amazing opportunity to be part of Oribe's team in Miami for a Victoria's Secret fashion show, which was during the opening night for the Fontainebleau Hotel. I did work on 6 models with him, and I also observed Oribe at work as he assigned hair pieces to each of the 36 models. He felt the texture of each model's hair and matched the hair piece to each model's natural hair color, quality and length. The final look was a relaxed, beachy look with a touch of glamour. As I watched him, I remember thinking how brilliant he was.
Constantly in high-demand for fashion, editorial and advertising work, Oribe has been a powerful influence and contributor to the beauty and fashion industry for the past 30 years. Collaborating with fashion's most leading photographers, makeup artists and designers, Oribe's work is visible everywhere, from the cover of nearly every fashion magazine to the runway of the largest names in fashion design. Oribe's career took off while working as an assistant for celebrity hairstylist Garren, when he earned his first editorial credit in GQ. Fashion editors quickly took notice, and Oribe editorial and campaign work expanded to include Vogue, Glamour, Elle, Allure, and W.
Throughout his career, Oribe has been a part of almost every monumental fashion moment, from the creation of the supermodel to the collaboration with Versace, not to mention the creation of the J. Lo persona. In the late 80s and early 90s, Oribe worked with makeup artist Francois Nars and photographer Steven Meisel to craft power imagery and memorable looks – an ultimately, first-name recognition – for supermodels such as Christy Turlington, Linda Evangelista, Naomi Campbell and Cindy Crawford. And Oribe's work on the Versace runway, along with other names in couture fashion, designated the first time an American hairstylist was invited to style the European collections.
For Oribe, hairstyling is an art form, where hair is used as a vehicle of expression. His ability to transform hair showcases his mastery for the art of hairdressing. Through his work in editorial spreads and designer campaigns, Oribe defines dramatic, extravagant glamour and sexiness.
In addition to being a world-renowned stylist,  Oribe also has his own product line, which was rooted in a deep understanding of hair, and knowing how much women care about it. As an innovator, he believed that when existing products didn't achieve the desired results, he had to make his own products, putting his passion to the line.
A few weeks ago, I was at Intercoiffure's Fall Atelier, where I had the opportunity to see first-hand Oribe receive Intercoiffure's prestigious Visionnaire Award, presented by his long-time friend Sarah Jessica Parker. Oribe's lasting impact on the beauty and fashion world establishes him as a legendary beauty artisan, and his innovative vision continues to set new standards to the craft of hairdressing. His creativity inspires all of us hairdressers, and we all look up to him and aspire to be like him.
Photo Credits:
Related Posts:
Michelangelo with Scissors: John Sahag
The Prince of Coiffure: Alexandre de Paris