Earlier this month, NYFW 2012 presented us with the newest fall/winter looks, and overall, the hairstyles were very girly and soft, without a lot of "vavoom" of extreme volume and texture. Here are some styles that definitely caught my eye.
Modern faux bob
At Rodarte, Odile Gilbert created the modern faux bob, where mid-length to long hair was folded into a bob. Gilbert wanted to achieve texture that wasn't too perfect but was instead "very wind-swept, very dusty" and "a bit dry." A few starry hair clips finished off the hair to create a whimsical, floaty look.
Side braids
For a whimsy and vintage feel, Ainsley's presentation showed off a soft, loose side braid, which gave a nice contrast to the design's textures of chiffon, knits and suede.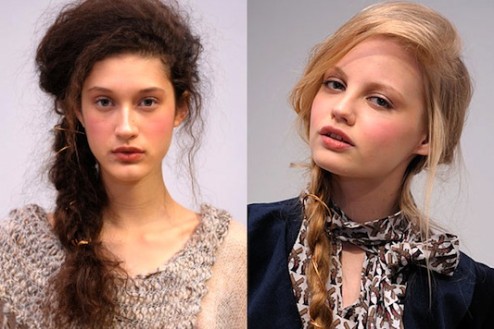 Fabric-Threaded Hair
We've already seen hair interwoven with accessories in the past, and the fabric-woven hair was visible again with Christian Cota's collection, bringing an intricate yet girly look. The collection embodied the theme of Mexican tile and textiles, and bright, printed fabric was braided into the hair to give pop to the desert tones seen in the clothing.
Patti Smith Goes to India
Inspired by the designers' trip to India, Guido Palau played off the theme of a traveler who's still rock and roll. To create the rocker edge, hair was parted right down the center, and wet strands were twisted and dried to give a "dread-y" texture with movement.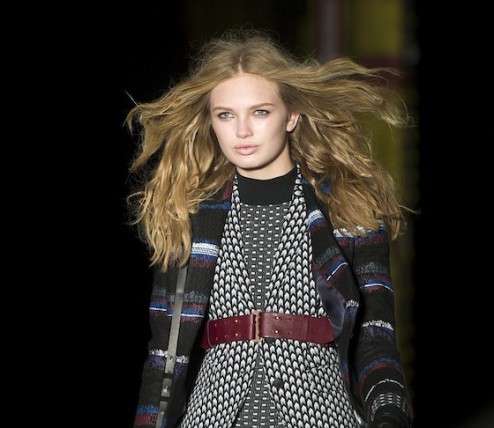 Photo Credits: ahumblemagic, evachen212, becauseimaddicted, bitebritt, TheMakeupGirl