The star of seventeen silent films, her most famous being Pandora's Box and Diary of a Lost Girl, Louise Brooks portrayed strong female characters that challenged the sexual mores of the time, as well as the norms of beauty and fashion. Prior to the 1920s, women's hairstyles were primarily curled and required a lot of time to style. Brooks had worn a bob since childhood, but adapted it into the characteristic sleek and ear-length cut with bangs when she began her career.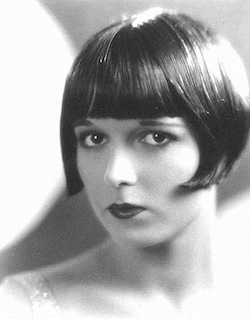 Thanks to movie stars like Brooks, the bob became the epitome of flapper fashion and empowered women to defy the strict standards that were placed on them. They began flocking to hairdressers and requesting the Louise Brooks. Her hairstyle even sparked the invention of the bobbie pin, which was used to keep bobs tidy and smooth.
Many a rebellious woman since has assumed a Louise Brooks, such as Siouxsie Sioux—one of the most inspiring punk rock singers—who posed with the cut on the cover of Siouxsie Sioux and the Banshees' 1988 album Peepshow. And Lady Gaga had a playful pink take on the Louise Brooks for her March 2011 Vogue cover. Other big names that have sported this bob are actress Katie Holmes and supermodel Linda Evangelista.
Louise Brooks through her brash attitude, flapper fashion, and bobbed haircut motivated women to be more in control of their appearance, their bodies, and their lives.
Photo Credits: guywoodhouse, valentinovamp, The Banshee and Other Creatures, vivaric, soulsauce
Related Posts:
A Polished Interpretation: The Faux Bob