As I am researching hair of iconic women I have come to realize that the most beautiful women in the world are the ones that have a distinct individual style of their own. They own it and are comfortable with themselves. I look at these women and see that it is these women that stand the test of time and they did it by pushing the boundaries with their style. They do it by having a style that represents who they are and sometimes it feels provocative and eyebrow raising. They know who they are, stand up for themselves and create a look that makes us look at them the way they want us to see them.
Your hair is fifty percent of your looks. Your hair is the first thing people look at. Experimenting with your hair is your best chance to discover what's best for you. If you never take chances with your hairstyle or color, you probably will never know what it feels like to be these style iconic women. You may think the change needs to be drastic, but you would be surprised that it can be a small change that will change everything about you.
I recommend that you stand in front of your favorite mirror and play with your hair. Move it around, pull it up or push it back. Stand there and see how you feel about yourself as you are trying all these changes; you may be pleasantly surprised. Good luck finding your iconic style.
Stay Gorgeous!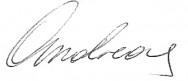 Andreas