Headbands, once largely the terrain of young girls, have steadily increased in popularity and visibility over the last several years, first in the form of ballerina-style elastics, then "flower-child" versions with feathers and beads, and of course, spring 2013's Great Gatsby-inspired looks. This year, headbands have completely grown up and have become a must-have hair accessory, especially for the fall season, and even designers like Dolce & Gabbana and Chanel have put their stamp on this fashion craze. The right headband can pull together your look, even on days when your hair isn't doing exactly what you like, or become the statement piece of your ensemble while focusing attention towards your hair and face.
Take a look at some of our favorite fall headband trends and consider making them a part of your fall look:
Shine Like Crystal   
There's no way to glam up your hair quite like crystals; they add light and radiance to every shade from blonde to brunette, and can provide a delicate balance to chunky fall sweaters and jackets. A style with a black, gold (like Dakota Fanning's double-banded look), or darker-color band is good choice for a casual occasion or romantic fall date, an all silver or platinum style may look more appropriate for the holidays–or for your wedding day.
Metallic Maiden
Echoing the brilliant hues of nature as leaves change colors before falling off their trees, deep coppers and warm golds are great shades to spruce up your fall wardrobe, and complement the tone of your hair. Try a headband made out of a thin metal band or goldleaf (such as Kourtney Kardashian's headband by Deepa Gurnani in the photo below), or choose a style that incorporates metallic beads and threads for a softer look.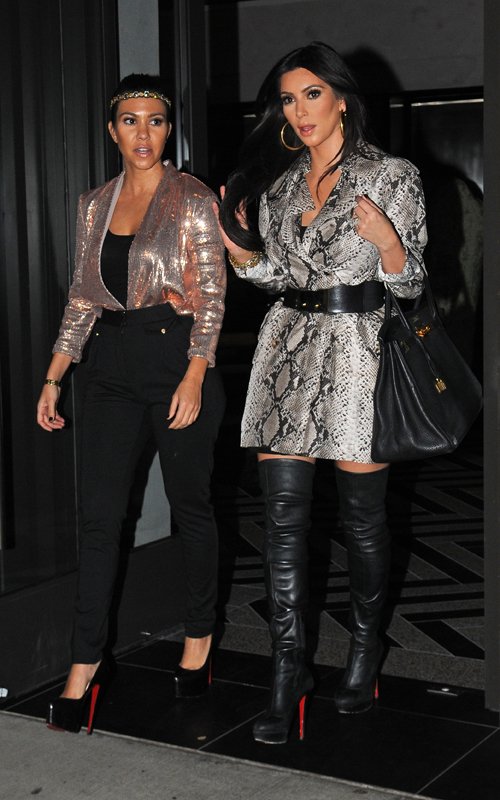 Seasonal Scarves
Find a new use for your favorite lightweight fall scarf or head to the outerwear section of your local boutique for this classic look. The possibilities of the scarf-headband are practically endless, allowing you to use the same piece to experiment with several different looks for everyday wear or special occasions; Roll the scarf from top to bottom (to recreate Paris Hilton's look below), or on the diagonal for square-shaped scarves. To play with shape, tie the knot of a short scarf on top of your hair for 50's-inspired chic or low on the side of your neck to give off a sophisticated, continental vibe, or adjust the thickness of the band at will.
Crowning Achievement
A decadent, highly-detailed headband, such as this design by Dolce & Gabbana, makes a regal statement, and will definitely get you noticed when you walk in a room. The majority of women may find the ornate look works best when paired with a smooth hairstyle and subdued outfit, but more adventurous dressers may wear it with anything and everything.
No matter if your personal style is straight-laced or wild, a beautiful headband can be incorporated into your fall wardrobe to complement your hair and help add a subtle sense of spice and excitement to your overall look.
Related Posts: 
Magnificent, Multi-Toned Hair: The Must-Have Look for Fall 2013