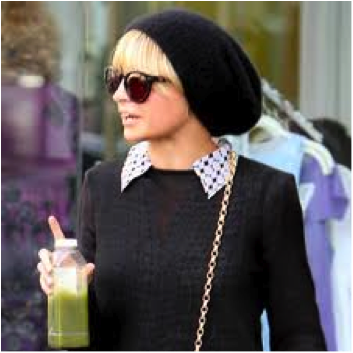 Raw juice is an excellent means toward inner and outer radiance while delivering vital nutrients the body craves.  It is not a fad or a diet, – as it can easily be added to any daily routine.  Raw juice is significantly more nourishing for the body than packaged juice because the nutrients are highest within the first 48 to 72 hours of processing.
The primary purpose of juicing is to create an abundance of nutrients for your body that may not always be present within daily meals. Juice combinations may include a variety of fruits, vegetables, herbs, and roots. The body easily digests and distributes protein (broccoli or spinach), antioxidants (all berries), while cleansing (lemon) and healing.  The benefits are compelling; raw juice can prevent colds and flu, brighten complexion (as Liv Tyler confirms), betters sleep, truly satisfies hunger, eliminates cravings, and boosts energy.  Healthier food choices will become easier with fewer cravings, and perhaps a few unwanted pounds will disappear effortlessly. And for hair, the follicles becomes deeper nourished, resulting in improved shine and thickness.
But you don't have to be a celebrity to enjoy the detoxifying health and beauty benefits of juicing. Visit Peeled, a local juice bar at North Ave on Sheffield. Chicago-based wardrobe stylist and culture maven April Francis (above) of Haute Closet and Dose Market stops by Peeled a couple times a week for the Forever Young and Life Support juices and swears their maintenance packs help continue her healthy lifestyle at home and on the run. Francis started sipping up the bulk of her fruits, veggies, vitamins, minerals and enzymes from juices after a life-changing wellness retreat at Blue Pearl Laguna. "I have to say my skin looks better and my energy is at an all time high. My hair is also at an all-time length," she adds, looking for confirmation from her long-time stylist Andreas. He concurs, adding that her hair feels stronger and boasts a lustrous shine.
With the ever changing seasonal, organic, produce available in stores and farmers markets, making juice at home does not have to be a chore. Cheri Calbom is the original Juice Lady and provides everything you need to know to get your juices started at home.
Nutritionists recommend two – four fruits and five cups of vegetables per day and 64oz of water, and juicing is an easy and efficient way to give your body the fuel it needs. "There are many roads that lead to gorgeous," jokes April Francis. "My rule of thumb is 80% healthy, 20% what you crave. Everything in moderation, my friends." The old adage is true- "You are what you eat"- and if you're thoughtfully supplying your body with nutritious, whole foods, you're going to shine, inside and out.
Photo Credits: E Online, Seven Stars Divas, Haute Closet