Twiggy is a fashion and hair icon that is known for her long lashes, doe eyes, thin frame, and above all, that short hair. After the hair fashion of the early sixties—characterized by the long hair and deep bangs of the music chicks like Marianne Faithfull and Jane Birkin—Twiggy's pixie cut was a breath of fresh air. Her look channeled the flapper style that challenged women's traditional societal roles in the Roaring Twenties. With her boyish figure, cropped hair, and dark eye makeup Twiggy was just what the 60's youth needed.
One of the main characteristics that sets Twiggy's haircut apart from the others was the longer front piece that was tucked behind the ear. It was referred to as the gamine, but has since taken the name that made it famous—Twiggy.
The part is important in this particular style—it is further on the side rather than closer to the top of the head. Also, the hair is cut short at the nape of the neck and not covering the ears in order to achieve the gamine effect Twiggy's cut is known for. Styling products are worn in order to hold the hair in place, especially the longer bang from the side part.
Currently, a lot of celebrities are cutting their hair short making the statement that they are confident and ready to make a shocking transformation. Cate Blanchett stunned everyone when she cut her long locks into the Twiggy in 2010 along with young actress Michelle Williams. Carey Mulligan chopped off her shoulder length hair in 2009, and then dyed it blond in 2010—in Twiggy fashion—she even posed for Wonderland styled as Twiggy (image below).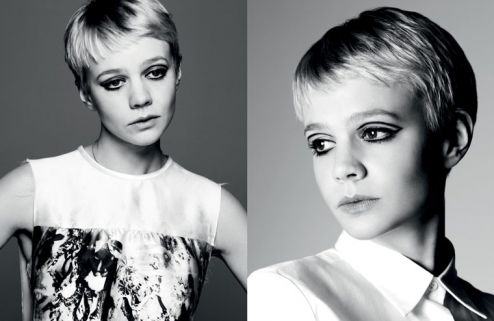 Similar to the mid-sixties, many people are now looking for a change, and Twiggy's cut is a drastic and strong style statement. For changing feminine ideal of the 1960s, Twiggy will forever be a hair icon and no matter what the decade this haircut is sure to turn heads.
Carey Mulligan Photo Credit: Wonderland Magazine