Salon Buzz has been doing Mother's Day Makeovers with NBC5 for over 10 years now, and it's just our way of giving back. At the end of the day, when we go through the whole process of taking care of the mothers – hair color, hair cuts and hair treatments, and also manicures and pedicures – we get so much more out of it than what we put into it. It's an interesting dynamic that happens in the salon when the mothers are all present, getting their makeovers. We feel so good doing these makeovers; it's a really uplifting experience for all of us.
Makeover #1: Janette Lehman
When I first met Janette, I could sense that she was a very wonderful, giving person, but I also picked up a sense of rock-and-roll within her. So I wanted to make her a rock-and-roller and give her a fresh start. And that inspired me to make her a redhead. She came to the salon as a blonde, but I wanted to give her a bold change, something to inspire her to start her new life. I cut some lengths and created a lot of layers for a new look to really bring herself out.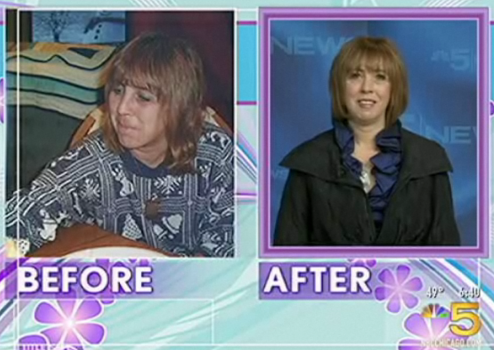 Makeover #2: Lim Depriest
She struck me as a charismatic individual with a very contagious smile. Despite all of her medical issues, she had a lot of grace and style, and I really wanted to bring out her personality. I cut some layers to make her look glamorous, and I lightened up her hair to brighten up her face because she brightens up the room with her smile.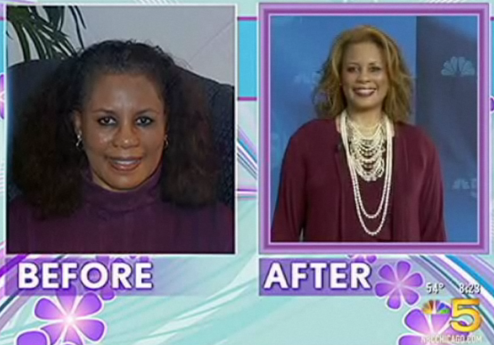 Makeover #3: Jill Duggan
I saw Jill as a humble person, leaving herself in the background and letting other mothers to shine when they came in the salon. After she lost her child, she became a mother to everyone. And I also learned that she was a coach of a cheerleading team. After getting to know her, I wanted to bring all that out. So I gave her some body, texture and style in her hair and brightened up her color. I really wanted her to step up front because she is a true leader.