Bangs are back this season, and wispy, layered styles that can be easily blended with the rest of your hair have given way to bold, full-bodied looks worn across the face or swept to the side. Bangs are a great look for any age or walk of life. The right style projects a hipness and modern feel to any look (great for us city dwellers) and can add a youthful appeal.
Choosing bangs for the first time (or for the first time in a long time) can feel a little risky–it can take a while to transition back to your usual 'do if you're not happy with the result–but taking the plunge can be totally worth the effort. A great fringe can highlight your best features and flaunt your personal style, and it all begins with a style personalized to suit the shape of your face and hair texture. To give you a starting point, we've rounded up some of our favorite looks for the season, but consult with your Salon Buzz stylist to determine the best bangs for you.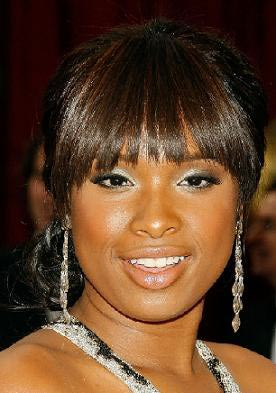 Round Face: Without the right cut, bangs can make this face-shape appear to be fuller. Avoid anything light or wispy in favor of a bolder cut. Longer, side-swept bangs can add have a lengthening effect, but if you prefer your bangs across your forehead, your Salon Buzz stylist can expertly shape a slight arch–such as Jennifer Hudson's, below–to create an effect of fluidity and movement.
Square Face: Heavy, blunt cuts can make square-shaped faces appear bulkier. Ask your stylist for some longer pieces around the sides of your face as seen on Nicole Richie this year, or soft feathering to balance a prominent jawline.
Heart-Shaped Face: Balance is key when choosing a style of bangs for the heart-shaped face. Longer, angled, and slightly side-swept cuts, such as Reese Witherspoon's signature look, will create a feminine contrast to a more pointed chin.
Oval Face: Ladies with oval-shaped faces, such as actress Lea Michele, have it easiest when it comes to bangs because almost every style can be flattering. If this is your face shape and you're feeling bold this fall, go with your instinct and try out something new.
If you've ever entertained the thought of trying bangs before, this is the season to take the cut. Make an appointment with your Salon Buzz stylist and get ready kick off the New Year with a hot new look.