Yves Saint Laurent, one of the greatest names in fashion history, lived and died pursuing his passion to "make women more beautiful." Respected fashion writer Caroline Rennolds Milbank summarized the career of YSL best in 1985: "The most consistently celebrated and influential designer in the past 25 years, Yves Saint Laurent can be credited with both spurring the couture's rise from it's 60s ashes and with finally rendering the ready to wear reputable." YSL closed his couture doors after 40 years, in 2002 while continuing with the ready-to-wear line, upon which he added to his original sentiment regarding his creations for women as "to reassure them and give them confidence."
This proclamation holds true in the hands of newly appointed Creative Director Hedi Slimane, formerly the YSL mens' Fashion Director. He appears confident in his duty to uphold the direction of the house without attempting to recreate or imitate, given his executive decisions thus far. Slimane, without hesitation, renamed the company Saint Laurent Paris and hand selected female Dutch model Saskia de Brauw as the new face for their mens' campaign (above and below right).
The focus of the fashion industry spectrum has just enlarged, as it takes yet another new direction. Juxtaposition of the non-traditional gender in an international marketing campaign is a modern homage to YSL's grand and celebrated design of le smoking jacket/suit for women. YSL opened the door in 1966, deeming it glamorously acceptable for women to indulge in a role reserved only for men. Masculine clothing is empowering yet today, striking a new level of strength and confidence.
Dries Van Noten (above) and Hermes (below) showed menswear-inspired designs for 2012 among others, while similar classic styles have long been designed by Ralph Lauren. The strongest aspect of modern mens' inspired fashion remains the trouser in various styles worn with a heel or the fashionable, flat lace-up, brogue. Hairstyles follow suit, worn short or pulled back, low at the nape of the neck.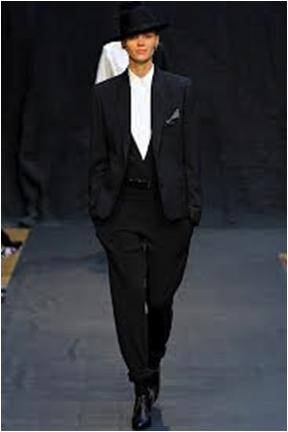 All fashion includes undeniable similarities to architecture. The masculine look in particular, is most appealing with "minimal" styling.  "Minimalism is not defined by what is not there, but by the rightness of what is there and by the richness with which this is experienced" spoke John Pauson, minimalist architect. There are few classic, seasonless styles for women as is the mens' inspired designs. What better way to try something new, take charge, have fun, and be gorgeous!
Related Posts:
Yves Saint Laurent: Fashion Revolutionary