Anna Wintour is such an inspiring figure. It's amazing to know that she's in a position of so much influence and power that everyone is willing to listen to and respect her opinion. She will push people's boundaries, and they will trust and follow her opinion. And as a result, they become better at what they do, and more doors open for them. Everybody wants Wintour's stamp of approval. As R.J. Cutler, producer of The September Issue, once said, "You can make a film in Hollywood without Steven Spielberg's blessing, and you can publish software without Bill Gates's blessing, but you can't succeed in fashion without Anna's blessing."
Editor-in-Chief of Vogue since 1988, Anna Wintour established her power on the fashion industry early on by bringing a new direction to the magazine. During the 90s when supermodels were regarded as the icons of fashion and beauty, Wintour made the critical decision to introduce celebrities and First Ladies to the Vogue covers, welcoming the idea of spotlighting women for their accomplishments rather than solely for their beauty. In her editor's letter, she stated, "Celebrated artists these days (actresses, usually) have a greater and more immediate appeal than models." By bringing the magazine's tone down to a more accessible level of fashion, Vogue was able to reach a broader audience and thanks to her forward thinking, the magazine continues to keep its high circulation today.
But Wintour's influence goes beyond her magazine, which is how she earns herself the title of a dealmaker. By breaking out of her role as a fashion editor and making ties with people across all industries, including politics, sports and entertainment, her weight in decision-making is visible and felt upon not just her immediate surroundings, but also to the general public. Before Marc Jacobs was an established name in fashion design, Wintour gave him a helping hand by persuading Donald Trump to lend his Plaza ballroom for a show. And in the 90s, when Michael Kors filed for bankruptcy, Wintour got investors for his brand, and now Kors' designs rake in close to $1 billion. Wintour's eye for talent also led her to begin the CFDA/Vogue Fashion Fund to support and mentor unknown designers, including Thakoon, whom with her help produced a fashion line for Gap.
In 2009, in efforts to boost the city's economy by encouraging people to spend more, Wintour built the blueprints for the now annual Fashion's Night Out. Wintour approached New York City Mayor Michael Bloomberg and chairman of Macy's Inc. Terry Lundgren with her idea of keeping retail shops open until late for an ultimate shopping extravaganza. Bloomberg signed on, and the results of Wintour's business acumen were astounding: Macy's sales rose from 4 to 5 percent into the double digits, and in its third year, the event blossomed to encompass over 250 cities across the US and over 1,000 retailers in New York City alone.
I admire Wintour in that she's not afraid to express her thoughts. She'll tell you exactly what she thinks, and everyone respects her opinion because she's earned that level of credibility through not only her knowledge in the fashion world, but also from her decisions and the results that come out of her decisions beyond the realms of the fashion industry. It's through her efforts that people – whether they be designers or celebrities – are shown worlds that would otherwise have been unavailable to them. I will always be inspired by her passion and focus that drive her – and others – to reach the top.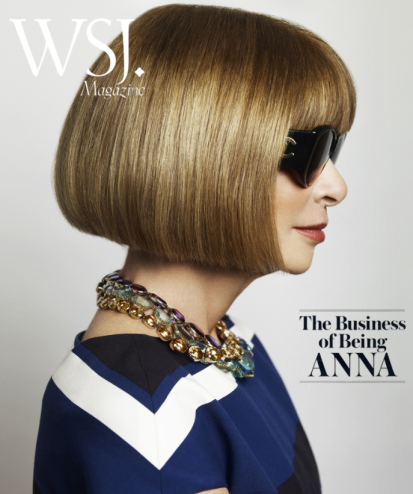 Photo Credits: Rich Girl Low Life Blog, www.mariotestino.com