Artisans emerge and evolve based on ideas and images of inspiration unique to them. For Pablo Picasso, the most famous painter in his own lifetime, and many others, there was (Lydia) Sylvette David.
Sylvette was a 19 year old Parisian girl who inspired Picasso's 40 renderings of her in only 30 days, during the spring of 1953. Picasso, while living in Vallaurius, attended a design exhibit where he purchased a chair designed by Sylvette's fiance Toby Jellinek. The couple delivered the chair to Picasso's studio the following day when he asked Sylvette to pose for him. She was "the girl with the ponytail", a style derived upon her father's provocation; one he had previously admired on a ballet dancer. Picasso fancied the ponytail she wore atop her head, liking it to a helmet of ancient times.
"Has long hair ever had such a boost as Picasso's present Paris exhibition?" wrote Mary Dunbar in the Sunday Times in October 1954. "About 20 different pictures which he painted last spring of a 19-year-old girl in Vallauris are shown. Her long, fair hair, tied back in a 'horse's tail' is a predominant feature in all of them and already I saw many girls… wearing this style, complete with a thick fringe, exactly like Picasso's Sylvette."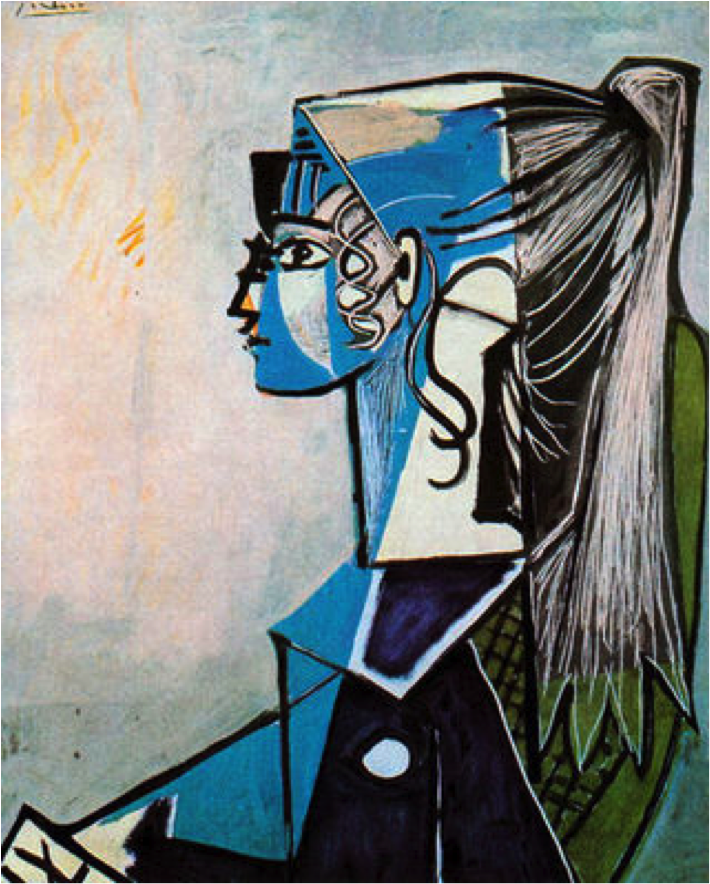 Roger Vardim, esteemed French film director, also took interest in the articles featuring the frenzy of the blonde beauty. The photographs of Sylvette quickly ignited a fantatstic idea for him. He insisted upon his wife's transformation; her brunette hair bleached blonde and styled in Sylvette's mirror image, before introducing her to the world. Vardim launched Brigitte Bardot's film career in the 1956 film And God Created Woman. Bardot's autobiography later revealed her disappointment that Picasso was not interested in painting her, considering he'd "already painted Sylvette David," and they looked alike as two drops of water. Bardot's legendary bombshell status remains untouched.
In 1960, Chicagoans prepared to build a 31-story civic center. The plans included an area for an impressive sculpture, ultimately designed by Pablo Picasso. The 1967 unveiling arrived with great anticipation only to be met with silence… "What is it…?"  The speculation continued until a 2004 Chicago Sun-Times interview with Picasso's grandson Olivier Widmaier Picasso confirmed that Sylvette was, in fact, the subject of Chicago's own Picasso.

Had Sylvette's father forgone the ballet or remained silent of his affinity for a functional, yet unpopular hairstyle, Sylvette herself would have lived a very different life, and she may not have mesmerized Picasso for one or 30 days, leaving Vardim uninspired, therefore depriving cinema history, not to mention the impediment of bombshell status as we know it. And Chicago would have received a very different monument – least of all a bombshell kindling Picasso.
Related Posts: